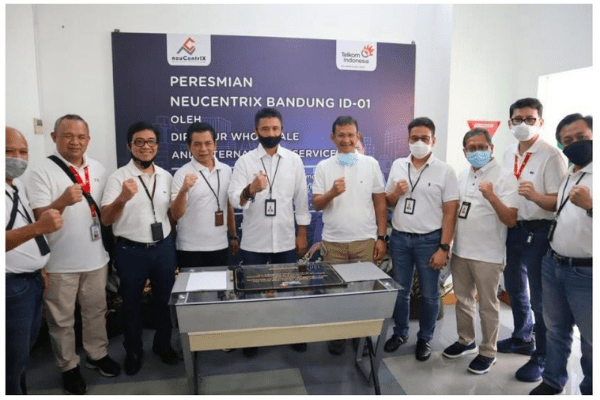 Director of WINS (Wholesale & International Service) Dian Rachmawan paid a visit to Telkom Regional Bandung in order to inaugurate neuCentrIX of Lembong, Bandung, Friday (30/7). The visit was received directly by the Executive Vice President (EVP) of Telkom Region of Java (TR3) M. Khamdan in the Riung Office, Bandung. Also making a presence were the senior leaders, the WINS directorate, TR3 senior leaders, and the general managers of Witel (Telkom district office) throughout West Java.
Dian addressed a number of things, firstly, in the midst of a pandemic, he believes it was necessary to implement a healthy lifestyle. Secondly, the necessity that comes after health is how we could be productive during the pandemic. The inauguration of neuCentrIX expected to be the solution of local company who wants to be a global player
Previously, EVP of TR3 West Java M. Khamdan had the opportunity to introduce the ranks of Senior Leaders and General Managers of Witel in West Java.
The same occasion was then continued with the presentation of neuCentrIX profile, which was delivered by Operational Senior Manager (OSM) of Regional Wholesale Service in TR 3, namely Sony Budy Winarso.
The director of WINS, accompanied by the EVP of TR 3 witnessed the contract agreement between Telkom and PT. Fiqran Solusindo Mediatama, PT. Inforkom Exe.
The event ended with the director of WINS and his entourage paying a visit to neuCentrIX located in Building C of Lembong, Bandung.